Zaw Zaw Aung, Monk Series #2b, oil on canvas, 52' x 34".
The United States
New York
Myanmar Art and Culture at ArtAsiaNYC
If you were to look at most art from Myanmar, you would never imagine it to be a country ruled by an oppressive military regime. Rather than focusing on the repression and the poverty of the country, the artists paint romanticized pictures of the beautiful and tranquil aspects of its rural life. ArtAsiaNYC offered an interesting glimpse of the work of some of these artists at a group show where 32 paintings by seven artists, including better known figures such as Mg Aw and Zaw Zaw Aung, were exhibited. Generally representational with flashes of impressionism, the colorful, picturesque works are deeply rooted in their land and culture, depicting as they do landscapes, monks, and scenes from daily life.
A good number of artists from Myanmar go to one of the two art schools in the country, the Yangon State School of Fine Arts and the Mandalay State School of Fine Arts, where the curriculum has not changed for decades and impressionism and early modernism are still the revered styles. (About half of the artists exhibited at the show went to the Yangon School.) The influence of such an education is apparent in the works at the show, but that does not have to have negative connotations.
While the art would definitely not be considered cutting-edge, there is a wonderful elegance, poetry and feeling for color in the paintings, which might come across, at least to the Westernized, post-modern cynic, as overly idyllic visions of rural life. Still, there is an unadulterated beauty and charm rarely seen in contemporary art that can melt even the most hard-nosed cynic's views and lure them into taking pleasure in the serene splendor of the paintings.
"By choice, these artists focus on the culture, religion, and the physical environment of their country for their inspiration," said Richard Streiter, the President of ArtAsiaNYC. "I do agree these are romanticized visions, but there is truthfulness to them as well. While Myanmar might be one of the poorest nations in Southeast Asia, the people in general have such a joie de vivre and gentleness to them.
Sometimes people look at contemporary art from Myanmar and say it is not 'cutting-edge' and my response to that is that there is a richness and honesty to this artwork that transcends the question of whether it is 'cutting-
edge' or not."
Some of the most beautiful work at the show were the paintings of Hla Phone Aung, especially his two soft, impressionistic renderings of Inlay Lake. Hla Phone Aung, who has a wonderful sense of light, employs an unusual technique of using a syringe filled with yellow paint to create gentle light effects. Mg Aw uses a diverse palette of bright colors to liven up his canvases with delightful market scenes and there is a real lusciousness in his images, be it of fruit, umbrellas, or roses.
Zaw Zaw Aung's Monk series may be likened to those of well-known Myanmar artist Min Wae Aung, but his color palette and tenor set him apart; while Min Wae Aung's work has gold –like tones and a somber mood, Zaw Zaw Aung's work is overflowing with pink and cheerfulness. His monks, in richly colored robes appearing as if they are floating, radiate with sensual tranquility.
Another artist of note at the show was Hlaing Bwa whose work had more direct emotional power than the others. His two paintings of a woman reclining on a chair, one with a cat on her lap and another with her back turned, suggested a genteel loneliness and pathos one often sees in the Vietnamese paintings of women.
All in all, the paintings were a graceful, gentle, uplifting, and most important, a pleasant departure from the disquiet of New York life. The show will travel to Hawthorne Gallery in Woodstock. New York, in June.
Priya Malhotra
Asian Art News
May/June 2004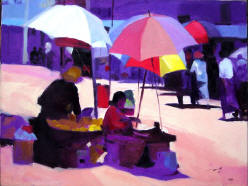 Mg Aw, Roadside Sellers, oil on canvass, 18" X 24".